George Washington Miller life and biography
---
George Washington Miller life and biography
The following texts are the property of their respective authors and we thank them for giving us the opportunity to share for free to students, teachers and users of the Web their texts will used only for illustrative educational and scientific purposes only.
Beloved Son: The Life of George Washington Miller, 1843-1862
         George Washington Miller's short life is remembered today for his military service during the American Civil War recorded in his 57 wartime letters home and his tragic death.  His letters and 150 year-old daguerreotype photo were cherished by his family and dutifully passed on.  In 1955, copies were donated to the Western Michigan University Historical Collection, when a relative used them for a university American history class paper.  They have been cited in several Civil War publications, including William C. Davis's Battle of Bull Run (Louisiana University Press, May 1981) and the website of the "Old Third Michigan" Infantry by Steven Soper at www.oldthirdmichigan.org   
The touching story of his mother's love and life-long hope for her son has been recounted endlessly by family and friends to this day.
         G.W. Miller was a 17 year-old farm boy, living far from important events and civilization, when he eagerly joined the 3rd Michigan Infantry in the earliest days of the American Civil War.  As a sharpshooter at the Battle of Fair Oaks on Saturday, May 31, 1862, he was sent out on an advance patrol from Bottoms Bridge on the rain swollen Chickahominy River in Virginia.  Although he was never determined as killed in action, he was also never heard from again.  Thus, to paraphrase Drew Gilpin Faust's seminal work, This Republic of Suffering, Death and the American Civil War, he was a missing man separated from his name.
         His distraught mother wrote officers and men in his company in hopes of determining his fate.  From his being reported missing to her death 20 years later, Jannett Miller would light a lantern in the window of their farmhouse and peer down the road at dusk every evening waiting for the return of her lost son. 
         George Miller's father's family was proud of their descent from colonist, William Miller, who came to the Massachusetts Bay Colony before 1643, and Revolutionary War "Minute Man", Stephen Miller, who fought at the Battle of Saratoga in October 1777 .  Like many settlers, the Millers moved from New England west to upstate New York, near Rochester on Lake Erie, seeking more land and opportunities.
His maternal grandparents were 1st generation Scottish immigrants from Perth in about the early 1810s.  They settled at the then-western frontier in upstate New York at Wheatland/Mumford where many other Scots had located .
In upstate New York, Jared Miller, George's father, worked as a farm hand summers and taught school winters.   Jared Miller and Jannett McPherson founded their family in Wheatland, New York but soon purchased land in Bowne Township, Kent County, Michigan – which was then heavily wooded and had only two roads west from Detroit .  Indeed, it was so thickly forested that the Miller family lived in relatives' log cabin till Jared could cut a route to their property .  Milo M. Quaife, introducing the early Michigan pioneer history, The Bark Covered House, wrote that the settlers were "forest dwellers" whose indispensable tools were the rifle and the axe "and he was an artist in the use of both. " 
Like others, the Millers traveled from upstate New York across Lake Erie to Michigan, then went by train to Battle Creek and Kalamazoo with the final leg of their journey to Bowne Township by ox team .  Jared Miller cleared his 160 acres to farm in July 1846 and built a log cabin at the site .  Throughout the 1850's, he bought up adjacent acreage .  On June 22, 1854, the Millers held a barn-raising .
George Washington Miller was born the first child of 10 of Jared and Jannett Miller on September 2, 1843 at Wheatland, New York .  But brother Arthur's birth in November 1848 occurred on the Michigan frontier .  
         George and his sister, Delia, were first taught at home by their mother, but then attended the original shanty schoolhouse established in the 1840's in Bowne Township .  There were no books, so teacher Rosina Baxter clipped selections of prose and poetry from newspapers to read to the children .  The 1860 United States Census showed George, 16 at the time, having attended school within that year, which appears to be generally true of those aged 6-19 in Bowne in 1860, but was not universally the case.  All the Millers were literate, and Jared and Delia are known to have kept diaries.  From his references to important sites in his letters, like Mount Vernon, Yorktown, and Pohick Church, it is clear that George and his family knew and valued their U.S. history .  They knew American geography and how to read maps, as G.W. described his locations and referred to checking it on a map .
The Millers valued education: during his service in the Third Michigan Infantry, George was saving his army pay for later higher education.  He remarked in his letters: "I hate to loose this winters schooling the worst way…", but continuing in his usual upbeat attitude, "Probably I shall learn all the better if I go to school again ."  Later, younger brother Arthur attended college for law in Grand Rapids.  Additionally, the Millers must have esteemed culture/music since Arthur was learning to fiddle and Jared Miller noted that he paid Reverend Fairchild for teaching music .
One tale recorded in Bowne was of "little Delia Miller being terrified" on the way to school when she 'encountered a group of Indians on horseback .'  The Native Americans living in the area were Ottawas and Chippewas or Ojibway .  They traded with the white settlers venison and money for turnips and potatoes .  Some cultivated crops and lived peacefully – even employing white settlers in their fields - and were respected by the whites .  Wildlife abounded (bear, wolves, deer).
Jared Miller was listed as the 4th wealthiest household in Bowne on the 1860 federal Census .  The Millers were undoubtedly like other folks in historic rural Kent County, living almost self-sufficiently to produce what their families needed, but also participating in the market economy .  "American farm families generally produced partly for their own consumption and partly for local barter" .  It is likely that they grew and produced wheat, corn, oats, meat, eggs, milk, vegetables, butter and maple sugar.  Although Jared hired a laborer to help him, George, too, references farm work he did with his father: ridding the fields of stones , caring for animals.  Clearly, George was accustomed to hard work: "We are having easy times now laying around in the shade doing nothing while you at home are hard at work sweating in the hot sun, but we do not know what minute we will be ordered to pack up and march and [maybe] fight. "  It is likely that the Millers practiced the traditional pre-industrial agricultural household life with the men/boys doing the heavy farm field work. 
Bowne Township consists of 36 square miles, saturated with many wetlands, lakes, and crossed by the Coldwater River which flows into the Grand River, the largest riparian system in Michigan.  The 1860 federal census found 718 people therein in 137 households.  Most of the Euro-American inhabitants were born elsewhere, the biggest number being in New York state.  While many neighbors were foreign-born, no Africans, African-Americans, or native Americans were listed .  The Millers' neighbors were 20 houses spread across 4 square miles in Bowne and Lowell Townships: nearby were the related McPherson and McNaughton households. 
At the start of the Civil War, 89 Bowne men might be called military eligible in that they were aged 18-40 and single, without dependants.  It is said that by the end of the war, only young boys and old men were left at home .
The closest town to the Miller homestead was the incipient village of Alto, 1.2 miles away, established in 1845.  Alto had had been a post office since 1851 .  The closest town of significance, where supplies and money could be picked up, was Lowell 7 miles away.  Jared Miller went into "the Rapids" (Grand Rapids, 23 miles distant) and Battle Creek to pick up things as well .
At the first town meeting for Bowne Township held April 3, 1849, Jared Miller was elected to the posts of Justice of the Peace and Overseer of Highways .  Thus, we know Jared Miller was involved in community life and held in some esteem by his peers. 
         An important part of the Millers' life was their Baptist religion: Jannett was one of four original organizers of the First Baptist Church of Bowne; in fact, the first meeting was held at the Millers' log cabin on Timpson Avenue .  Jared was the first baptism at the church founding on June 17, 1854 and later became a Deacon in the church.  He noted in his diary that he "resolved to take up the cross and follow Jesus ."  It is very probable that George attended the services of the Church held for five years in the shanty schoolhouse with his family and that the Miller family read the Bible together.  Probably the Millers attended church every Sunday .  Later, in 1888, the same church held a lecture by a woman suffragette, sponsored traveling speakers, and almost hired a woman minister !
Away from home in the Army of the Potomac, George reassured his parents of his abstinence from the whiskey which was passed out .  He noted the swearing in camp but that 'the boys in [his] tent were pretty moral fellows'.  As a devoted son, he offered his father his own savings to build the family's new house .  Later, when George was reported missing in action, Jannett Miller wrote to his friends to try to discover more information about the person he had become in the Union Army; she asked whether he had ever read his Bible?  George's tent-mate, Henry M. Morse, wrote to console her that he did "read a great deal", but what George read Morse was not sure .  George was described as "truthful, honorable, and upright ". 
         With so many new Michigan settlers originating from New York state, where the New York Manumission Society was one of the largest and most important antislavery/abolitionist organizations in US history, and with Michigan's location at the Canadian border, the terminus of the "underground railroad", sentiment in Michigan was firmly abolitionist .  The Adam Crosswhite case at the U.S. Supreme Court, wherein citizens in the town of Marshall, Michigan protected the Crosswhite family of escaped slaves, directly led Kentucky Senator Henry Clay to push for passage of the "Fugitive Slave Law" in 1850 .  In Cass County, Michigan the Antislavery Baptist Association was founded in 1853 at the Chain Lake Baptist Church .  The legendary activist, Sojourner Truth, settled in Battle Creek, Michigan in 1857.  Abraham Lincoln, John Brown, and Fredrick Douglas all gave public speeches in Michigan in the immediate ante-bellum period .  The publication of John Brown senior's prison letters and his hanging by the state of Virginia electrified the entire nation and catapulted many northerners out of their lethargy on the abolition/slavery issue. 
Jannett Miller attended a lecture by the son of the famous abolitionist and hanged Harpers Ferry raider, John Brown, probably in late 1861.  George's reaction to it makes his sympathies clear: "You must have had quite a treat hearing John Brown Jr. speak: I should have thought that he would have got plenty of volunteer[s].  I think I should have enlisted the first thing if I had been there.  Didn't he get anybody to enlist in that neighborhood? " 
         Not only did George Miller serve, but so too did his maternal uncles William and Daniel McPherson, whom he met for the first time when camped in Virginia.  William McPherson was a sutter in "Halls' New York Cavalry".  Daniel was possibly in the 109th New York Infantry.
Family oral tradition has it that George Miller "ran away from home" against his parents' wishes to enlist at President Lincoln's first call for 75,000 volunteers on April 12, 1861 .  By April 28, 1861, George Miller had already written home relating news.   Did George walk into Grand Rapids to enlist, or possibly hitch a ride with a wagon passing along the way?  Was he with another hale young man from Bowne, Lowell, Cascade, Ada or Caledonia?  There were certainly others known to the Millers "from our neighborhood" who joined up early on, too, but time seems to have erased this information.
Official records show enlistment on May 13, 1861 for 3 years.  At the time of his enlistment, George was only 17½ years old, which was underage, but his age was listed as 19.  His residence listed Cascade rather than Bowne.  Because of "his ardor and patriotic fervor", as well as his pleading, his parents were reluctantly persuaded to finally accept the fact of his enlistment.   The Michigan Volunteers recruiters signed the following oath: "I certify, on honor, That I have minutely inspected the volunteer (name inserted) previously to his enlistment, and that he was entirely sober when enlisted; that, to the best of my judgment and belief, he is of lawful age; and that, in accepting him as duly qualified to perform the duties of an able-bodied soldier, I have strictly observed the Regulations which govern the recruiting service.  This soldier has (color) eyes, (color) hair, (color) complexion, is (#) feet (#) inches high.  Signature, Recruiting Officer".   Since no record of his father's consent to his enlistment has been found , it appears as if George lied about his age.
In exchange for their enlistment, privates were paid $15 per month and provided "clothing, subsistence, and comfortable quarters" .  Later in the war, signing bonuses lured recruits .
George certainly did go into Grand Rapids to join the Third Michigan Infantry, then forming south of the city at the fairgrounds.  There, they camped for a month-and-a-half with all the accoutrements and preparations for a war: a pure sweet water well for the men, uniforms, guns, drilling, carriages visiting with ladies, marches down Monroe Avenue, etc.  On May 21, 1861 the Third Michigan was mustered into state service, and June 10th into federal service .  A delegation of 34 young ladies presented a beautiful silk banner with gold inscription to the regiment before their departure .  The Third Michigan Infantry, 1040 men strong, left Grand Rapids by train on June 13, 1861.  
But even before he had left Grand Rapids, George began his correspondence to his family in April 1861 reporting his thoughts, feelings, reactions to events/people, and observations of his world.  Mail came to his family by horseback to the towns of Hastings and Lowell and took 6 to 10 days.  During the Civil War, there were even express services .  The Millers sent George not only letters but also papers, stamps, envelopes, newspapers, books, medicine, cheese, butter, cookies, crackers, maple sugar, their pictures, and other comforts while his regiment was camped outside Washington .  George sent home his picture(s), money, books, a red dahlia flower, seeds, a picture of General McClellan for Reverend Fairchild, a watch as a gift for Delia, and souvenirs - such as a sliver of wood from George Washington's  church pew, a piece of rebel uniform and a rebel letter.
         We often mischaracterize past citizens, societies, and technologies, assuming that people in the nineteenth century only traveled one-way (west) and only when they had to; this is untrue.  Jannett McPherson Miller traveled to visit her family back in New York in fall 1851 and her parents and sister Libbie visited Michigan in fall 1854.  Because communications were less technological, we also assume that it was more limited.  Yet mail in London in the 185os took only about 3 hours to be delivered across town .  Thus, we should not be too surprised that news of George's and other Bowne boys' exploits and gossip in far-away Washington and Virginia traveled fast in the small farming communities of western Michigan.  For example, on August 3, 1861 George wrote to his parents to tell them that Chandler "Chancie" Andrews was indeed with the Regiment during their whole time and was not AWOL .   George's parents must have chided him for writing to 20-year-old Miss Marinda Draper as he wrote back: "In regard to my writing to the girls, that corespondence with Marind Draper was none of my seeking.  She wrote to me first and I of course answered it; she kept on writing and I have answered all of her letters.  If the girls want I should write to them they must write to me first ." 
George frequently ended his letters with an exhortation to write soon.  His thirst for news was probably in part due to his missing home.  In return, he reported news of people in Washington, from the Grand Rapids area or New York.  G.W. must have been a busy correspondent, writing not only his parents, his mother, sister Delia, brother, Marinda Draper, Jim Truax, Horace and Helen, and probably to those people he remarks on receiving letters from: Aunt Christie, Aunt Libbie, cousin R. J. Boughton, "Mr. Stones people", O. H. Stone, Will Lind.  Some days he wrote at least 2 letters.  From time gaps, it appears that some letters have been lost.
Like other spirited young men, George held the typical views of this era about glory in battle: "The 2nd, 5th, and 37th went in and won the day for us all and glory for themselves ."  While George was anxious to participate in battle, he never in his letters expressed a desire to kill: he noted injuries, deaths, and when all men were safe.  He found at Williamsburg "the battlefield … strewn with dead secesh [southerners], pale and ghastly…. It looks rather rough to see so many dead men but a soldier soon learns to look on such things as a matter of course ."  In judging, we should also remember that what rings to us as naivety, may have been partly a deep desire to participate in history in the making.
         George relays information to his family also of the weaponry issued him in the army ("minnie muskets" that shot one mile, "minnie rifles", and "Russian rifles"), and his own purchase of a revolver and a knife.   It appears as if he witnessed an exhibition or testing of a Gatling gun: "We have got a new species of artillery along with us.  It fires a common musket bullet and fires at the rate of sixty times a minute.  I believe the bullets are shoveled into a hopper and the machine is worked by a lever ."
The winter of 1861-2, the Third Michigan encamped near Alexandria, Virginia protecting Washington D.C., then moved to the Virginia Peninsula in March 1862.  The living was tough.  George bought boots, shoes, and shirts to supplement the army issue wear which he felt was inferior .  Union General Silas Casey described army conditions during the Peninsula campaign movements as: "Furnished with scanty transportation, occupying sickly positions, exposed to the inclemency of the weather, at times without tents or blankets, and illy supplied with rations and medical stores, the loss from sickness has been great… "
Except for bouts of cold, measles, mumps, and a sore finger, George always noted excellent health to his family.  Jannett Miller sent George 'rules for health' and medicines.  However, his innate constitution or clean living may have been additional factor(s) as almost all his extended family survived to their 70s or even 90s.
Most thought the Civil War would be brief, or that a conclusive battle might determine all.  George appears to have hoped in the winter of 1861-2 that a spring campaign might enable peace to be declared in 3 months and for him to return home by fall .  He appears to have thought that the battle for Richmond would settle the matter decisively: "I presume before you get this you will hear of the fait of Richmond ."  This comment reminds us that the entire nation – surely Mother and Father Miller back home in Michigan – anxiously awaited news of battles.
The epic Battle of Fair Oaks, 12 miles outside of Richmond , so close troops could hear the church bells ring, rates as "inconclusive" in most analyses of victory versus defeat for Yankees or Rebels, but it was portentous in its size, ferocity, and that serendipity so crucial in war.  84,000 men were involved, with 13, 736 causalities.  Curiously, it featured the first American military use of a hot air balloon in actual battle by Professor Thaddeus S. C. Lowe .    George Miller had marched by with his unit and seen the wagons of balloons and gases, if not an actual balloon launch .
         May 30, 1862 produced a terrible thunderstorm over the troops arrayed outside Richmond for the looming battle.  Private Frank Eldredge of the 7th Ohio chronicled: that he "… slept   On the damp ground; awoke at midnight to find several inches of water running under me; terrible thunder shower; wet, Oh! How wet! Wet no name for it; lay down again and "let her rip! "  As a result, a knee- to waist-deep mud was concocted in some places, while in other spots, pooled water covered the ground there.  The morning of May 31st dawned grey and humid, as the Federal troops waited for the attack that they were alerted was coming.
Union General-in-Chief George McClellan's goal was to capture Richmond and force the south to surrender.  Confederate Commander-in-Chief General Joe Johnston planned to split the Union army, parts of which were north and south of the Chickahominy River, and thereby destroy the threat to the Confederate capitol.  Johnson intended to pin Keyes' and Heintzelman's corps (George Miller's) of the Union Army against or crossing the sodden Chickahominy River at Bottoms Bridge . 
In preparation for the great battle, the Third Michigan soldiers' articles were shipped back across the Chickahominy, so they would not be encumbered.   By good fortune for the Union army, the soldiers of General Heintzelman's corps, Kearney's division, had crossed the Chickahominy: one of the saving graces for the Union army, so that between 4-7:30 pm on the afternoon of May 31, 1862, they were able to reinforce Generals Casey's and Couch's divisions' collapsing battle lines, avert disastrous loss, and leave their position stronger. 
One wonders whether G.W., like so many others, carried into battle his family photos that his parents had sent him? Or did he safeguard those by leaving them behind with his other belongings?  Jannett Miller wrote his fellow soldiers to inquire what was on his person in the battle?  What did he carry in his pocket into battle?  Had he written his name on a piece of paper, so that he might be identified and buried in a proper grave, the deepest desire of so many Civil War soldiers ?  But his friends did not know. 
According to Confederate General Gustavus Woodson Smith's account in The Battle of Seven Pines, at the center was General Keyes' IV corps, containing the divisions of Generals Silas Casey and Darius Couch, new recruits, who were overwhelmed and retreated from their 1st line of defenses to their 2nd and then, to the 3rd line, in "inextricable confusion".  Therefore, Berry's brigade of Kearney's division, including the Third Michigan and George Miller, were shoved forward to halt the Rebel flanking action that threatened disaster . 
Earlier that morning, the Third Michigan had marched up the Williamsburg Road from Bottoms Bridge to the 3rd line of defense where they halted about noon.  George and his cohort waited till about 3 pm for the battle they knew would come .  While others of their unit and the main armies lay in the torpid Virginia afternoon, George and the sharpshooters led by Captain Judd advanced out in front.  Perhaps some wisecracked gallows humor, as George noted as they lined up for battle at Williamsburg: "So we marched away down through a succession of fields, formed in line of battle in front of a woods when the order was countermanded …then filed into the woods, where our boys were fighting.  The boys were laughing and cracking jokes at one another as indifferent as if going on brigade drill ."  Others would have prayed, silently speculated, or recalled loved ones at home. 
         George and about 50 others were selected out of their regiment as sharpshooters .  "[T]hey went into the battle about 100 yards in advance of the balance of the regiment, but as the battle raged we were soon all mixed up together and we had all we could do for every man to look out for himself ."  Perhaps Captain Judd urged them forward, as General Kearny memorably did at Williamsburg: "Don't worry, men, they'll all be firing at me! "  The last seen of George, by his colleagues, was that "he was as far in advance as any that was seen in the company ."  George's unit of the Third Corps, Third Division, and Third Brigade was involved "in close action".  As William H. Drake wrote later: "We had to fight Indian fashion such was the nature of the ground, thickets, fallen timber and swampy ."  Fortunately, their stand saved a flanking attack on the Union forces.  George and the Third were fighting the forces of General R.H. Anderson, specifically Colonel Micah Jenkins's Palmetto Sharpshooters and 6th South Carolinians . 
            According to an account of the battle written in a letter to the Detroit Free Press under the name of "Josephus", the 3rd's Chaplain, Reverend Joseph Anderson, wrote that the left part of the Third Michigan's line on the battlefield 'was ordered up on the double-quick into a thicket of pines, to the right of which was a slashing of oaks, from which the rebels kept up a steady and galling fire ."  Captain Judd and the 50 sharpshooters tried to penetrate this rebel redoubt.  They 'drove back the rebels from the thicket to a fence, where the rebels made a stand'.  The Third Michigan 'pressed forward' and drove the rebels back another 80 rods till the sharpshooters ran out of their 60 rounds of ammunition and outran their support. 
         The Rebels' accounts of the fighting was remarkably similar: "Entering the swamp, covered in water two or three feet deep, in which the vines, briars, and felled timber made an almost impassable barrier, we were driving the enemy steadily before us, when he suddenly moved upon my right flank a strong force [Berry's brigade] bearing Confederate battle-flags and enfiladed my whole line ."  As Colonel Jenkins of the South Carolina reported: "The enemy [was reported] in line of battle, advancing at the double-quick… I advanced my line toward them also at the double-quick, and assumed a position perpendicular to the Williamsburg road in the open field along the crest of a hill, the woods immediately in front, and the enemy in line about one hundred yards distant….the supporting regiment, under a terrible fire, gave back,  The enemy, encouraged, redoubled his fire; … cheered and advanced, and I determined to meet him….firing full in face of the foe.  The two lines neared each other to thirty or forty yards…the rallied fragments who had collected and resumed their fire from the woods to the right, and thus, at 7:40 P.M., we closed our busy day… Night having settled upon the field… "
Once an actual charge and battle began, probably George was totally absorbed with the intensity of those moments: running or hiding in White Oak Swamp's slashed timbers, scrub oaks and pines aiming, shooting, being hit, gushing blood, tying up his wound, and crawling for cover or water.  While Historian Earl Hess believes most combat occurred at a distance of 100 yards, George may well have been felled at close range in the frenzy of a charge .  A later letter to George's father noted that 'George and a boy from their company were seen going towards the Rebels .'  'The boy George was last seen with' was found dead after the battle.  George was the farthest advanced in front of any in their company . 
The Third Michigan was "heavily engaged" at the Battle of Fair Oaks losing their Captain, Samuel Judd, that day, along with 30 others killed, 124 wounded, and 15 missing.  General Phil Kearny summarized later: "On arriving at the field of battle we found certain zigzag rifle-pits sheltering crowds of men, and the enemy firing from abatis and timber in their front.  General Casey remarked to me on coming, "If you will regain our late camp, the day will still be ours.'  I had but the Third Michigan up, but they moved forward with alacrity, dashing into the felled timber, and commenced a desperate but determined contest, heedless of the shell and ball which rained upon them… I directed General Berry [with the Fifth Michigan] to turn the slashings and, fighting, gain the open ground on the enemy's right flank.  This was perfectly accomplished."  Of this day Colonel Ambrose A. Stevens reported later: "…The engagement now became general, and it was with the greatest difficulty that our corps of sharp-shooters, under command of Captain Judd, could penetrate this mass of fallen timber and dislodge the enemy from their strong position; but the steady and cool behavior of our men, and with the telling effect of the deadly aim of their rifles, soon compelled them to fall back…I also beg leave to call your attention to the gallant Captain Judd, who fell while bravely leading our sharpshooters .. "  Color Sergeant D. G. Crotty noted in his experiences with the Third Michigan, Four Years of Campaigning with the Army of the Potomac: "The rebels open a tremendous fire into our ranks and kill and wound nearly half our regiment.  After the firing closes, what is left of the regiment get back to camp under our gallant Lieutenant Colonel Stevens.  Oh, how many of our comrades we leave behind, fallen in defense of their Nation's flag ." 
Certainly George Miller, and probably every man on the field, felt as Lieutenant Henry Ropes of the 20th Massachusetts summed up: "My Company suffered most in the battle ."
During the Civil War, the germ theory was not understood; there was no antiseptic surgery, no anesthetics/painkillers (except whiskey), no modern hospital facilities, and of course, poor records; thus, the number of soldiers who died of wounds or diseases was appalling.  Despite the rules for health and his consciousness of remaining healthy,  in the middle of a raging battle in steamy, marshy woods, George Miller was suddenly his own nurse:  "…we had all we could do for every man to look out for himself."  Did he visualize home and friends in the soft haze of the body's shock in his last moments?  It is doubtful that he lived until that night's soft rain.
             As will be explained further below, on May 31st, 1862, George W. Miller was apparently killed that afternoon or evening by ballistic trauma causing Class IV hemorrhaging (bleeding to death from gunshot wound) to the thigh, probably hitting a major artery.   Probably he was shot in the femoral artery, in which case there would be massive blood loss and shock.  A gunshot hitting the femoral artery results in 20% blood loss within minutes .  An upper femoral artery wound caused by a direct shot from a heavy rifle is likely to kill within 10 minutes, even today with modern medicine .

According to the Annual Report of the Adjutant General for the state of Michigan for 1862, 3 infantrymen remained missing from 31 May 1862: G.W. Miller, William A. Drake, and James V. Smith.  
         Because George's body was not found after the battle, he was listed as missing, presumed taken prisoner: "We have made a thorough search for George but as this body could not be found, he is undoubtedly taken prisoner ."  Additionally, because of the near flanking action during the intense battle, George was first believed captured: "…the enemy overpowered our right wing which fell back.  The enemy followed them up and so we were holding them on the left (where George, the sharpshooters, and Captain Judd were).  They came very near flanking us, it was with the utmost exertion that any of us escaped and there is where we think our three men was taken prisoner, G. W. among the rest ."  In August 1862 reports of George being a prisoner at Salisbury, North Carolina surfaced, however these were dispelled by December 1862 .
         "The whole field in the rear of the line of firing was covered with dead; and wounded men were coming in in great numbers, some walking, some limping, some carried on stretchers and blankets, many with shattered limbs exposed and dripping with blood ."  Of the battle Oliver Wendell Holmes wrote: "…the maneurvering of a battle to be seen-splendid and awful to behold...It is singular what indifference one gets to look on the dead bodies in gray clothes which lie all around... As you go through the woods you stumble...perhaps tread on the swollen bodies, already fly blown and decaying, of men shot in the head back or bowels- Many of the wounds are terrible to look at…. "
         The 2nd Michigan Infantry, detailed to hunt for dead or wounded on the battlefield afterwards, reported finding an unidentified dead soldier of the 3rd Michigan in a swampy area.  He had been "wounded in the thigh and he had bounded the wound (a tourniquet) with a black silk necktie handkerchief to stop the flow of blood ."  This soldier had crawled off to the edge of a swamp, but he bled to death.  Nevertheless his gun lay by his side, on the stockof which was initialed, worked in with pin heads .  Instead of reporting this to the 3rd Michigan, as they probably should have done, they dug a hole in the muck with their bayonets and buried him there where he fell ."
            Of the 3 missing and unaccounted for immediately after the battle (GWM, W. Drake, J. Smith), William H. Drake was eventually promoted to Corporal and discharged for disability on January 13, 1863 at Washington .  James V. Smith returned to the regiment at Camp Pitcher, Virginia on February 27, 1863.  He was discharged to date May 30, 1863 . 
As the years passed, most concluded that George was that unidentified 3rd Michigan soldier found by the 2nd Michigan Infantry and buried .  Jannett Miller always hoped that her beloved son was lost, imprisoned, or had amnesia and would eventually recover and find his way home; she refused to believe he was dead.  Every evening for the rest of her life she lit a lantern to guide him home and walked down to the road to peer off in the distance for George.  Clara Barton, the pioneering American nurse and humanitarian, after the war organized efforts to account for the thousands of unaccounted for dead and relieve the "intense anxiety… amounting in many instances almost to  insanity" of the surviving relatives . 
Identification of dead soldiers was developed after the horrors of battles, such as the Battle of Fair Oaks, where bodies could not be recovered or interred for 3 days at which time they were 'blackened' and bloated with decay as to be unidentifiable .  In fact, "dog-tags" were proposed for the Union Army by New Yorker, John Kennedy, in 1862 but not adopted .   Later in the war, soldiers went into battle with their names and addresses pinned onto their backs or knapsacks, or scratched on belt buckles .  General Kearny, "the Magnificent", devised a unit insignia to identify his officers .  Any simple ID, however, might have changed Jannett Miller's grieving (and that of hundreds of thousands of others).
Drew Gilpin Faust has observed that "death inevitably inspired self-scrutiny and self-definition."  George Miller was aware of the reality of death and dismemberment during his service: "We hear their band playing the dead march and three volleys are fired over the poor fellows grave, and farewell they are forgotten ."  George wrote several times, qualifying his future "if I live through this", "this war might send me home a cripple", and "I have not laid out any plans for the future, but it rather follows the course of events ."  But according to his friend, Henry Morse, who wrote to Jannett Miller after George's disappearance: "He always seemed so unconcerned about death, he appeared fearless.... "  It had taken only 4 months after his enlistment for George to wish for the war's end .
As so many soldiers would experience, George described some of the dehumanizing inuring produced by the sheer scope of killing in the Civil War: "It looks rather rough to see so many dead men but a soldier soon learns to look on such things as a matter of course… A secesh general was killed in the battle and his body left on the field ."  George had already seen horrible, unexpected death and mangled corpses .  One soldier wrote after Williamsburg of bodies of the dead that "they paved the earth ."  On some later battlefields, it was impossible to walk without stepping on bodies !
But George appears to feel himself apart from the "dead secesh" who he viewed as having a "brutal and ignorant expression", although by this time, soldiers had had contacts with the other side .  Of course, at this early stage in the war, the real massacres had not yet been seen. By the end of the Civil War, all the country - soldiers and civilians – was exhausted and many then did feel the humanity of their "enemy".
George expressed his sympathy for the living: "One of Company K men while on picket had the misfortune to have both his feet shot off at the ankle.  The poor fellow will have to hobble through the world the rest of his life with wooden feet ."  He was sorrowful, too, of the sadness of war, its disruption to people and destruction .
          A memorial monument to George Miller was erected with that of his parents at Bowne Center Cemetery near Alto, Michigan.   Even at her own death, with George gone longer than he had lived, Jannett Miller could not record on the marker that he was dead: he is still listed as "Missing at Battle of Fair Oaks May 31, 1862".   Perhaps it was too difficult for Jannett to bear the thought of her dear son George as Henry M. Morse had described the bodies after the Battle of Fair Oaks at their quick and unceremonious internment: rotting and blackened beyond recognition for three days in the baking sun .  His tent-mates tried to console Jannett Miller in letters: "I supose I have done [w]rong in picturing to you the horrors of a battlefield for you will imagine everything about him.  But what does it mater what becomes of the body when the spirit has gone to its heavenly father and left this world of sin and sorrow ."  Several of those who wrote would soon be dead themselves. 
          Surprisingly, George never mentions God or his beliefs on heaven, hell, or the morals of killing in war in all of his letters, even on Christmas Eve!  Is this reticence or maintenance of privacy or something else?  We do know that George curtailed one of his letters because "Bill Dc is poking around trying to see what I write so I guess I will close ."  The tenor of his letters is always upbeat and generous toward others.  He never complained of the food, his health, or conditions. 
George's letters are a grass-roots view of the big events of the times.  As an aware citizen, he listened and observed political leaders like President Abraham Lincoln, then-Senator Andrew Johnson, and the army's commanding generals .  He saw other luminaries:  the notorious Dan Sickles, Generals Fitz John Porter and Edwin Sumner.  He was awed by the spectacle of participating in the Grand Review of +50,000 men in arms (like President Lincoln, George appreciated the sight, but wondered at the point of it) . 
George W. Miller, motivated by ideals, used his service to benefit personally by visiting historic, cultural, and educational sites: Mount Vernon, the Capitol, the Patent Office, the Smithsonian Institution, the Declaration of Independence, Old Pohick Church (where George Washington attended), the navy man-of-wars (Pensacola, Monitor), the "hotel in Arlington [sic] where Colonel Elsworth was killed" .
George's letters, still easy to read and understand today, illustrate wit and lively intelligence; they are an alert observation of the history swirling around him, tinged by his missing of home and family, yet urging other friends to join up and serve their country.  Which, in spite of their knowledge of his probable death – and that of thousands of others - they continued to do. 
G.W. Miller shows by his careful conclusions that he was of a cautious nature.  During his army life he heard many rumors, but always qualified them as to their source: "I hope this war will end soon but you must not flatter yourselves about seeing me home by spring, for I am afraid you will be disappointed… A report has just come into camp that General Lee of the secession army has surrendered but I will not believe it till I hear it from better authority ."
George's gentle sense of sarcasm/humor is evident throughout his letters: "we made excellent marks for the enemy" or how the road's mud was so thick that they 'had no other alternative but to paddle through it' .  Describing the Regimental Chaplain he complained: "Old Doc Cummings disperses the gospel to us on the sabbath… but the principal parts of his discourse consists of telling us how awful wicked we soldiers are… he is the bigest nuisance of the Regiment.  If he was like the Chaplains in some of the other regiments, the boys would take some interest in him, but as it is, its like smoking sawdust to hear him ."  'The fit of their pants was up under the arm pits' and 'the weather was hot enough to singe a fellow's hair' .
         Strange to the modern eye/ear is his perennial closing: "Your affectionate son (or brother)   G.W. Miller".  While the seeming formality is discordant today, one must recall the much stiffer and more serious context of the times, changing use of language, and consider also that as these letters were written, the author never knew where they might end up.  There can be no doubt though of the deep attachment between George and his family, especially his mother. 
Does George's experience and death still have meaning for us and can we learn anything from it today?  Yes, it does and yes, we can.  First, today's landscape from Virginia to New Mexico to Michigan memorializes the names of heroes, battles, and events of the Civil War.  During the great Civil War, Americans recognized that they were engaged in an historic time and struggle.  "Most world-historic events – great military battles, political revolutions – are self-consciously historic to the participants living through them.  They act knowing that their decisions will be chronicled and dissected for decades or centuries to come ."  Therefore, we should attribute George's eagerness to his deep desire to have an impact by actively contributing to history.  George's own assessment was that he was "never more satisfied with anything in my life" as soldiering in the Army of the Potomac .  Would George still have written that had he known that in only four months he would sacrifice his life?  By January 1, 1863, at a minimum, everyone in America was clear of the war's legendary proportions and purposes.
Secondly, the extrapolation of new knowledge and its conjoining via the internet make reexamination of past lives expand our knowledge in surprising ways.  For example, Germaine Greer's recent book, Shakespeare's Wife, presents a fabulous example of a re-examination fulling out a life from the absolute meagerest of facts for a totally altered, and enriched comprehension of our historic predecessors.
The American Civil War transformed the nation's attitudes and responsibilities for its veterans .  About three million Americans served in the Civil War of a total population of 31 million .  While many of them could not bring themselves to talk of the horrors of the war without reliving them later, yet innumerable descendants still carry living memories and lessons of some of those stories.  It instilled 'its message' in the great jurist, Oliver Wendell Holmes, "War, when you are at it, is horrible and dull.  It is only when time has passed that you see that its message was divine ."
And while other Miller descendants have suffered tragedies , the story of Jannett Miller's anguish and devotion and George's commitment and death became family legend repeated with pride and ethos as an example by six generations.  Almost 50 years later when photographed as an old woman surrounded by family, Delia Miller Colby, wore a black silk scarf tied around her neck.  Whereas some may have felt George brazenly foolhardy for joining up, none ever spoke it.  Instead, George etched grief on his mother's heart and emblazoned his sacrifice, as the folly of war versus bravery and ideals; this is the moral of George's story.  This idea is one of the classic human tales and is told again always by families in their remembrances. 
George's letters perfectly illustrate Walt Whitman's "majesty and reality of the American common people ."  Our society could benefit if every family recounted a story of love and devotion as strong as George's.  His family's preservation of his legacy attests to their intense love, commitment, and pride.  So, while George Washington Miller is but barely a footnote in the history of his regiment, he is a fine example of the best of the American family and spirit. 
________________________________________________________________________
         Copies of George Miller's surviving 57 letters home recounting his experiences and impressions, and the 8 letters written by his friends or officers after his being missing are in the Western Michigan University, University Archives and Regional History Collections, donated by John F. Lane, after being copied from hand-written copies made by Delia Miller Colby of her mother, Jannett's originals.  They then came into the possession of Lawrence Miller Headworth, a nephew.   Because "Mac" Headworth was so worried about preserving George's letters, he would not allow them to be taken out of his home and short-hand and long-hand copies had to be made at his house by Norma Lane.  Their current whereabouts and those of the originals are not known.
---
George Washington Miller life and biography
CIVIL WAR LETTERS of George Washington Miller
Introduction to G.W. Miller Letters
  Electronic Transcriber's Note: Electronic transcription of the "Jack Lane Civil War Letters of George W. Miller" in Western Michigan University at Kalamazoo (as cited in book, Battle at Bull Run, by William C. Davis, published May 1981 by Louisiana State University Press) were done June 2008 by Mary M. Lane to be sent to the Bowne Township (Michigan) Historical Society website for public use and enjoyment.  Transcriber has maintained spelling and punctuation as found in copies done by Norma Lane (see below), but added footnotes or corrections as identified by ML at end.
  Modern Transcription: George Washington Miller's original letters to his parents have disappeared (to the best knowledge of these family descendants), however, happily, Delia Miller Colby guarded her letters from her brother George and copied her parents' letters from him, which is how these have survived.   In 1955, John F. "Jack" Lane used the letters as the basis for a class paper for U.S. History of Professor Starring at Western Michigan University.  Learning from his grandmother, Theodosia Colby Lane, that her mother's letters were then held by Lawrence Headworth (a descendant of younger sister, Jessie Miller Headworth), Jack Lane asked to be able to copy them.  Lawrence and Ruth Headworth would not allow the letters to be taken from their house, but Norma Lane copied, then typed up the letters.  The letters were said to have passed to someone who took them to California; whether they survive or not is unknown.
Lawrence Headworth also owned a spinning wheel owned by the Colbys or Millers, as well as Jared Miller's clock.  The clock and spinning wheel were passed down to William Harris.  The spinning wheel is now in the possession of Roger Harris's sister, while Roger has the clock. 
Copies of photos of Jared and Jeanette Miller have been disseminated among their descendants.
Following is information about the George W. Miller letters by unsigned authors.
ML
"Miller Genealogy"
"CHILDREN::
George W. – Born Sept. 2, 1843.  Enlisted in Company A, 3rd Michigan Volunteers and served in the Civil War.  He lost his life on the field or in prison.  Joined at Grand Rapids, Mich. For 3 months in April, 1861, which afterwards disbanded.  He then re-enlisted for 3 years.  The Regiment went to Washington in June the same year.  In 1862 they were engaged in the Battle of Fair Oaks.  May 31st, 1862, their regiment was quite badly cut up.  George was detailed with others from Company A.  After the battle he was numbered with the missing, which has never been cleared up.  A story is told by soldiers of the 2nd Regiment Inft. Which was also in the battle, which may or may not be a solution of George's fate.   The 2nd was detailed to hunt for the dead and wounded of their Regiment.  They came upon a body of a Michigan 3rd soldier who had been wounded in the thigh and he had bound the wound with a black silk necktie handkerchief to stop the flow of blood, then crawled off to the edge of a swamp, but he bled to death.  Nevertheless his gun lay by his side, on the stock of which was initialed, worked in with pin heads.  Instead of reporting this to the 3rd, as they probably should have done, they dug a hole in the muck with their bayonets and buried him there."
"The Civil War Letters of George W. Miller"
        "George W. Miller was born on March 5, 1842 , in Wheatland, New York.  In July of 1846, he emigrated to Michigan with his parents, Jared and Janet Miller, and his one year old sister, Delia.  They traveled by stagecoach and train to Battle Creek, Michigan.  From there they proceeded by ox-team wagon to Bowne township in southeastern Kent County where Jared purchased some land to build his homestead.
Jared built a log cabin on his property and young George helped his father clear the land and plant crops.  Janet Miller, who had some education, taught young George and Delia to read and write.  As George grew older, he developed a keen sense of the land and the crops growing there as evidenced by some of his observations of the terrain in Virginia during the Civil War.
On May 13, 1861, shortly after George's nineteenth birthday , he enlisted in the Union army for a term of three years at Grand Rapids, Michigan.  George's mother initially opposed his enlisting, but finally was convinced by George's patriotic fervor.
Miller was enrolled in Company A, Third Michigan Infantry, which was made up almost exclusively of men from the Grand Rapids area.
The 3rd Michigan Infantry was mustered into service on June 10, 1861, with 1040 officers and men.  They were led by Colonel Daniel McConnell, with Lieutenant Colonel Ambrose Stevens second in command.  Company A's officers were Captain Samuel A. Judd, 1st Lieutenant Frederick Shriver, and 2nd Lieutenant Charles Lyon.
The 3rd Michigan regiment left Grand Rapids by train on June 13, 1861, for Washington D.C.  Following their participation in the battle of Blackburn's Ford on July 18, 1861, they went into winter quarters at Alexandria, Virginia.
Miller rose rapidly in the ranks, eventually being promoted to sergeant.  He received awards for his marksmanship and was assigned to be a skirmisher (sharpshooter).
When the 3rd Michigan was transferred to active duty in the Peninsula campaign in 1862, Miller's unit participated in the Battle of Fair Oaks, Virginia, where Miller was killed on May 31, 1862.   His body was never recovered.
His mother continued to inquire about Miller's fate.  She wrote letters to his friends in the 3rd Michigan regarding the circumstances of her son's death.  Miller was thought to have been captured at first, but later inquiries show that he disappeared "in a thicket of pines.  The Sharpshooters had difficulty penetrating a mass of fallen timber to dislodge the enemy from their strong position.  Captain Samuel Judd and his bravely led sharpshooters fell in action."
Until her death on April 7, 1880, Janet Miller would always light a kerosene lamp and place it in the window of their home, and at dusk, would walk out to the road leading to the railroad crossing looking for her lost son.   She and her husband Jared were buried in the Bowne Township cemetery next to a memorial stone to her lost son.
The George W. Miller letters belong to Mr. John F. Lane to whom I am grateful for allowing me access to them.  Mr. James Hummel was a most valuable source in helping my research with his fine collection of Civil War books and artifacts.  I thank them both for sharing the letters and their knowledge with me.
[Following were excerpts from the letters]

        [Unknown if related or how to above writing]
These are the letters written by G. W. Miller, Company A Third Regiment, Michigan Infantry.  They portray a farmer boy's impressions of the early days fo the Civil War. The enthusiasm for adventure and the lure of war induced this boy to leave home without his parents' permission and join the army.  Being only 17 years old at this time his father would not give his permission to join: after much pleading he was finally allowed to go.  
He was promoted to the rank of sergeant and awarded for his rifle marksmanship.  He was sent out on an advance patrol at the battle of Fair Oaks and was never heard from again.  His mother wrote to various officers and men in his company in hopes of obtaining some information as to the possibility of his being captured or killed.  Her letters and answeres are found in the final pages of this account.  Until her death every night Mrs. Miller would gaze down the road at dusk looking for the return of her lost son.
G.W. Miller was my great-great uncle.
My great-grandfather, Isaac C. Colby, also participated in the Civil War.  He enlisted in the army on February 14, 1862 in the 18th Ohio Volunteer Infantry , Company F.  He engaged in battles at Perryville, Stone Rivers Gap, Chickamauga, Missionary Ridge and through the Georgia campaign.  He was wounded at New Hope Church Gap on May, 1864 and was captured in that area and sent to Libby Prison Camp where he remained until the expiration of the war.   He was married to Delia M. Miller, sister of G. W. Miller.  He died a natural death in 1916.  No information can be found of his accounts of the Civil War."
- John F. Lane
                                                                                                          Grand Rapids
April 28, 1861
Dear Parents,
         Today is the quiet and peaceful Sabbath, the usual din of the city is suscided* while here and there the citizens are flocking to church.  We have orders from the Captain to met at the armory at 1:00 and proceed to St. Mark's Church in a body.
We had a great mass meeting here yesterday, all the people took an oath of allegiance, our company marched down Canal Street and
joined the Rifle Company from over the river and marched back to the square, stayed a little while and then marched back to quarters, and here dismissed.
Stone's boys** and Brannans were down here yesterday.
I expect we will have our uniforms and guns this week' we are going to camp out after this, it is going to be down the flank road somewhere in a field.  I believe some of the officers have just been in, they say we will not leave town under three weeks.
We drill on the square every day when it is fair; we shall commence practicing with muskets tomorrow I expect.
Write back as soon as possible. I shall get it I guess.
Goodbye,
Your affectionate son,
G. W. Miller
* Transcriber has retained original spellings and punctuation of G. W. Miller.
** See Index of People and Places for explanatory notes.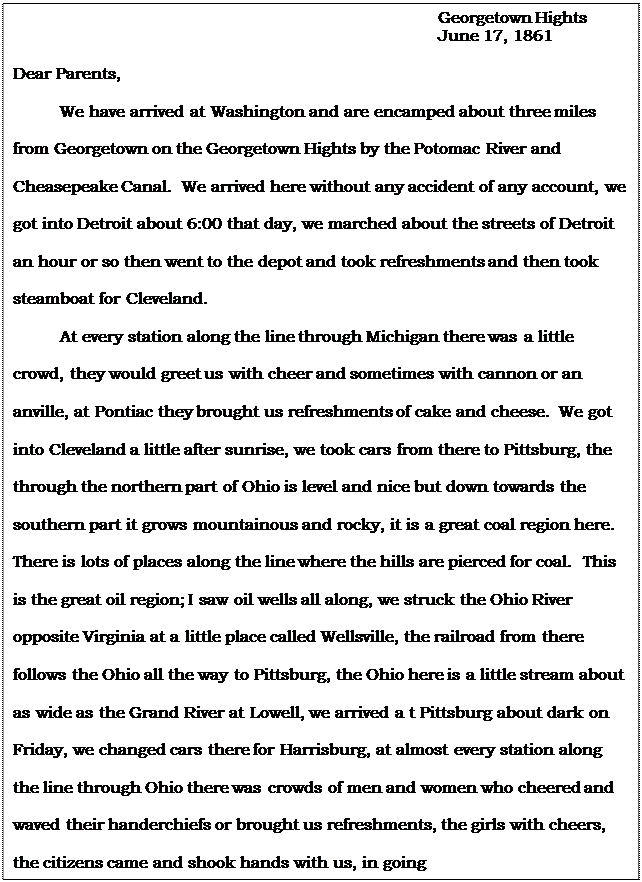 from Pittsburg to Harrisburg we crossed the Allegany Mountains; although there is some pretty big hills they don't come up to mountains, there is some big rocks though, the railroad mostly follow course of small streams, we passed through four tunnels, the hills have been dug down through about fourty feet through the solid rock. We arrived at Harrisburg a little after noon on Saturday, took refreshment, then changed cars for Baltimore; we passed the Massachusetts Six Regiment about daylight, before we got into Baltimore.  When we arrived at Baltimore we formed into platoons and marched through the city without the least sign of fight, we saw some houses there marked with bullets.  We took another train for Washington, on the way we passed the relay house where the secession troops were stationed, it is occupied by the New York troops now I believe, we arrived at Washington about noon we formed in marching order and marched through Washington across the Potomac (a little stream about thirty or fourty feet wide at this place) and up through Georgetown and about three miles beyond, we are encamped between the Michigan Second and the District of Columbia troops, it is a nice healthy spot and no warmer than in Michigan.  But I must close for want of paper, when you write address G. W. Miller, Company A Third Regiment Michigan Inft., Georgetown HIghts, D.C.  There is a rumor that there is a fight twenty miles up the river but I can't vouch for the truth of it.  A Pennsylvania Regiment camped three miles captured thirty secession troops yesterday.
G. W. Miller
                                                                                              Camp Blair
Friday, June 28, 1861
Dear Parents,
We are still encamped on the Georgetown Hights.   We haven't had any fight yet or seen any signs of any yet they are continually on the alert for secessionists.  Down at the bridge there was what appeared to be a finely drest lady with a horse and buggy, came up to the bridge to cross, she was stopped to be examined according to orders, they found under some grass in the buggy, about a bushel of precussion caps.  This led to closer examination of the lady which ended in the discovery that the supposed lady was a man and a rank secessionist at that, they have got him prisoner.  There is a regiment of D. C. troops beside us, they are building a battery on the bank that overlooks the bridge and the considerable distance up and down the Potomac, the Potomac here is about fourty feet wide but is very deep, it flows through a rocky basin about fourty rods wide with high blufs on the sides, the river runs on one side and the Chespeake Canal on the other.  The Land around here is very hilly and rocky, there is considerable sickness at camp mostly the summer complaint caused by change of weather and climate.  I have had the measles and am now enjoying the mumps, they are getting better now, they keep me in the tent pretty much all the time.  Ben Morse** is doing well, I believe he has had the measles, our living is composed of good stubbed material for breakfast we are always sure of our beef bread and rice for supper, beef bread and coffee, it is not our full rations but it is the best we can get now.
I had the pleasure of receiving that paper you sent me, I shall endever to follow the rules for health as near as I can.  Please write a letter as often as you can, it does me good to hear from home.
Our regiment had the honor of a visit from Old Abe and Wm. H. Seward** last night, Old Abe was dressed in black pants, black plug hat and a linin coat, he is slightly stooped shouldered and looks more like a track pedlar than the president of these U.S.  Wm. H. Seward is a short man with grey hair and a big mosel.  I don't know where we shall go from here or when we shall go, I have heard that our colonel has his choice to stay and guard the city of march into Virginia so fight; however we shall not move for a while yet I guess, when you answer this address the same as I told you in my last excepting the change of Camp Blair instead of Georgetown Hights.
Write soon and give me all the news from home.
Your affectionate son,
G.W. Miller
                                                                              Camp Blair, Washington  D.C.
July 7, 1861
Dear Parents,
I received you letter of the 28th and glad enough I was to get it, I am now enjoying excelent health although camp life does not add a great deal of flesh to a person, I am sorry I was not at home when cousin Maggie and Mary** were there but I suppose you remembered to   them, I am glad father has got them stones picked up for I dreaded them more than all the rest of the summer's work.  I will bet Arthur don't get dry nor hungry the 4th after getting so much money for climbing that pole, I spent my 4th by standing guard two hours out of six all day and all night; there was no celebration whatever except firing a few guns from the battery.  They boys had spent all their money before so there was no getting drunk.  Taking it all together it was a very quiet 4th.  We are on the Georgetown Hights and are likely to be for a considerable time to come, for as I can find out we are to be kept as a kind of home guard, if you wish to know our exact locality take the map of the District of Columbia and look up in the corner on the line of Maryland on the Potomac and you will see our locality exactly.
We are encamped on D.C. ground while just over the fence from Maryland, and right across the river is Virginia.  The people around here have finished their haying and harvesting enough I should judge their corn was not much ahead of the corn in Michigan at this time.  There is a great many old deserted fields in Maryland where low bush blackberries grown in abundance and cherries grow in every direction; and we get out of camp once in a while and then we live, the woods with
                                                                                              Camp Blair, Washington  D.C.
July 14, 1861
Dear Parents,
I am still alive and well, I am still able to eat my regular rations and do duty.  The health of the soldiers is generally good.  The summer complaint trouble a good many.  One man died in the hospital last week.
We have orders to be ready to march at any moment although I do not think we  will leave in a week or more.
They detailed a party of men out of our company today who are going over to the Second Regiment to drill as skirmishers for the Brigade.  The D.C. troops is out ad have left – a company of New York light artillery have taken possession of the battery.  The New York Twelfth Regiment is encamped just above us, they are to belong to our Brigade, they are dressed in dark blue uniforms with a tall black felt hat – the rim turned up on one side and a feather of black pined on.
I have not been to the city since I had the measles, I intend to go down some of these days though.  The Colonel is very strict about giving passes now, some of the soldiers would go out  and trespass on the people's property who would come and make complaints to the Colonel, ever since he has been very particular about giving passes.
The Dutch Company have moved over across the river to guard that end of the bridge.  I forgot to answer in my last letter the question you asked me about Captain Judd, when we embarked on the boat at Detroit Captain Judd and Lieutenant Striver were accidently left but they took the next boat and come after us, they over took the rear train at Pittsburg, they
overhauled our train just before we got to Harrisburg.  Our train had stopped for something when the second train came up, Captain Judd and the Lieutenant came up and joined us, as they came walking up they were greeted with three hearty cheers from our boys who swore they would not go through Baltimore without Captain Judd.  When we got through to Washington we were all of us nearly fagged out, the day that we arrived was exceedingly warm, and marching four or five miles after so long a journey being kept up night and day was pretty hard on us, some of our men gave out – before we got to camp we have heard since that no other Regiment had come in without stopping at least a day to rest in Washington, that days march was the cause of a great deal of sickness to some of our men.  A little railroad ride is fun but four days ad nights of it begins to be hard work.  The people in front of our camp have been harvesting their oats this week, they have ten or a dozen slaves to work all the time, it has been bad weather for harvesting this week, for there or four days back it has rained everyday almost regular at four o'clock.
The corn looks fine, one of our sick boys that was left at the Rapids came on last night – he said the  weather there was very hot and every thing was burning up,it is quite the contrary here the weather is cool and pleasant, the nights are decidedly cool, as cool as any I ever saw in Michigan at this time of the year.
It was reported last nigh that Congress passed a bill lowering the officers wages and raising the privates to
$15 a month, we have not received this months pay yet although it is expected everyday.
I received a paper last night that you sent me.  I was very glad to get it although I had rather   it had been a letter.  I have not received but one since I have been here, but I must close, write as often as you can.
Your affectionate son,
G. W. Miller
P.S.  Tell Delia to write me a long letter and tell me all the news.
P.S. Tell Delia to write me I should be glad to hear from her, too.  G.W.
                                                                                                          Bull Run
July 20, 1861
Dear Parents,
I am alive and well, and in good spirits and although I cannot say I have been in a fight, I have been pretty close proximity to one.  We left Camp Blair last Tuesday with the Mass. First and the New York Twelfth, Michigan Second and took our line of march for Fairfax Courthouse.  On Wednesday we passed Fairfax just as the enemy was retreating; they fired a few shots into their rear.  We marched through a small place called Germantown where the enemy had extensive enbarkment* thrown up which were deserted.  On Thursday marched through a place called Centerville where the enemy embankments* thrown up.  These were also deserted, but after marching about three miles from Centerville we came upon a masked battery or rather our pickets discovered one, a part of Sherman's** battery was sent forward and opened fire on them, the fire was not returned much at first – our skirmishers were then sent forward.  They came suddenly upn an advance guard of the enemy picket concealed in the bushes, where a sharp skirmish ensued in which some men were killed and wounded.  One man out of our company was wounded in the killed.**  The enemy had the advantage of o8ur boys so they retreated slowly.  Our Regiment, the New York Regiment and the Massachusetts First were sent forward to support them, we were taken out into an open field and formed in line of battle where we made excellent marks for the enemy who commenced firing at us, the bullets whistled musically around us, but fortunately not a man was hurt, a spent bullet struck one of our men on his breast
** (Note: that man was Edward Morse from Nunica, Michigan.)

strap and bounded off again, we were halted on a piece of high ground where the rebels began to throw cannon shot at us, we did not like the sound of the things, so the Colonel led us under cover of a ravine, at least we got the order for a general charge on them, we marched up Batallion front till we got to the edge of the woods then we were ordered to halt, the Cavalry made a charge and retreated.  The Artillery then charged and fired several shots when the Battery opened full fire on them which killed one man and mortally wounded another, they then retreated, the New York Twelfth was ordered to charge bayonets.  The Massachusetts First was then ordered forward.  They marched into the very teeth of the battery and stood there till they were ordered back.  The rebel forces proved to be much stronger than was supposed, we were then ordered to fall back, we fell back about a quarter of a mile and got into the shelter of a ravine, our battery then opened fire on them of shot and shell which was answered quickly by the enemy, the cannon shot shirred over our heads like a shower of bumble bees and struck in the ground a few feet beyond.  I used to think it foolishness to dodge a cannon ball but I think the other way now, you can hear a cannon ball quite a while before it gets to you and sometimes you can see them.  I saw several that were coming pretty strate for us in time to dodge them, finally our battery fell short of amunition* so we fell back on Centerville.
We are waiting for reinforcements now, they are bringing on large batteries of cannon to cannonade them.
I must hurry and close or I shall loose my chance to 
Send it out.  Do not feel concerned about me.  I shall take care of myself.
Good-bye,
G. W. Miller
P.S.  There was about thirteen of our men killed and ten wounded and missing.
                                                                                  Arlington Hights*
Saturday July 27, 1861
Dear Parents,
I am still alive and well.  We are now encamped opposite the city of Washington.  You will hear all  the particulars of the battle of Bull  Run probably long before this will reach you, so it will not be necessary to recount the particulars.
The next Sunday after I wrote you a general attact* was made on the battery from the different batteries placed by our men.  The cannonading was kept up al the forenoon which was answered by a single shot by the enemy.
I happened to be detailed as picket guard through the day, so I did not have a hand in the skirmishing that our company was engaged in through the day, there was fortunately none of our men hurt.
About 8 o'clock a heavy cannonading commenced two or three miles to the right of us, with long rolls of musquetry* at intervals from which we knew that a hard fight was going on in that quarter; the firing continued till about 7 o'clock in the afternoon when it ceased --- about this time I was taken in from picket, and our Regiment marched back into the woods to camp and had just stacked our guns when a heavy firing commenced on our left at Hunts Battery, we were ordered to  fall into ranks again and throw our blankets in a pile for a hearty charge on the rebels, we started down the road on double quick, all anxious for a fight, till we got as far as Centerville and as they were forming us in order of battle, a messenger from the filed of battle gave us the doleful intelligence that our army were all cut to pieces and were retreating every man on his  
own hook.  The firing had then ceased on the left and we were formed in close column, stacked our guns and lay down in the ranks to sleep without any blankets of any sort.  We could see the dust flying down from the many roads as far as th eye could reach, in the direction of the Blue Ridge, many miles distant, which were filled with our retreating soldiers, and the Rebels Cavalry galloping around in search of straglers.  We were called up about 11 o'clock and commenced a retreat, our Regiment bringing up the rear, being the first in the field and the last out, we marched all night and the next day till about 3 o'clock when we arrived a t Arlington Hights opposite the city of Washington tired, hungry and wet to the skin.  We found quarters in an old barn that night, next day we pitched our tents in a field close by with two or three other regiments.
I went to Washington the other day and visited the Capitol, the Post Office, Patent Office and Smithsonian Institution, and saw things to numerous to mention.  Among the great curiosities of the Patent Office was General Washington's coat, vest and pants, his sword that he carried all through the Revolution also his camp chest and a piece of his tent and a cane that was presented to him by Ben Franklin.  What a link between the present and the past.  It seemed to me, as I gazed on the very things that the great Father of our Country used and handled in time gone by, especially the sword that he waved of many stern fought battlefield.  I saw the original Declaration of Independence – it looks very old and some of it is unintelligible.  I saw the name of John Hancock put on in bold hand, I saw also the coat General ----- [Jackson? By N. Lane] wore in the Battle of New Orleans.  There is
a large collection of stuffed animals and birds at the Smithsonian Institute.
I don't know how long we shall stay here or where we shall go next.  But I presume there will be no more fighting for the present.
Your affectionate son,
G. W. Miller
P.S. Write soon.
                                              
Index of Persons, Places and Events
Mentioned in the Civil War Letters of G.W. Miller
People (in alphabetical order)
| | | | |
| --- | --- | --- | --- |
| Name | Letter date | Reference Quote | Explanation |
| Arthur | 7/7/1861 | "I will bet Arthur don't get dry nor hungry the 4th after getting so much money for climbing that pole." | |
| Brannans | 4/28/1861 | | |
| Cluth, Reverend C. | | | |
| Cousin Maggie & Mary | 7/7/1861 | | |
| | | | |
| Judd, Captain | 7/14/1861 | | |
| Lieutenant, the | 7/14/1861 | | |
| | | | |
| Morse, Ben | 6/28/1861 | | |
| | | | |
| Stone's boys | 4/28/1861 | | |
| | | | |
From http://www.bownehistory.org/MaryLane/Civil%20War%20Letters%20of%20G.%20W.%20Miller.doc
web site: http://www.bownehistory.org
Author : not indicated on the document source
George Washington Miller life and biography
George Washington Miller life and biography
Disclaimer
This site is not a news organization and is updated without any periodicity, solely on the basis of availability of material, so is not an editorial product subject to discipline in art. 1, paragraph III of Law No. 62, 7.03.2001. The summaries, notes, lyrics and quotes contained on this site are available free of charge to students, researchers, professors, technicians with illustrative educational and scientific purposes with the concept of fair use and purpose of compliance with EU Directive 2001/29 / EC and the Law Article 633. Dlg 70 and 68. The site is managed and coordinated by the author only for informational and educational purposes. While considering the reliable sources used, the author of this site does not guarantee the accuracy and integrity of information and therefore accepts no responsibility for any problems or damage caused by errors or omissions, if such errors or omissions result from negligence , accident or other cause. All notes, quotes the texts and images are property of their respective authors and production companies that own the rights, if the beneficiaries were considered damaged by the inclusion of these files on this site or had been inadvertently inserted images, information, text or other copyrighted material will be immediately removed and or it will be referred to the source from simple message to the e-mail address indicated on the contact page.

The mission of this site is the progress of science and useful arts, as we think they are very important for our country's social and cultural benefits of the free sharing of information. All information and images on this site are used here only for educational purposes, cognitive and informative. The medicine and health information contained on this site is general in nature and informative purposes only and therefore can not replace in any case the advice of a doctor (or a legally authorized person to the profession). On this site we have made every effort to ensure the accuracy of tools, calculators and information, we can not give a guarantee or be held responsible for any errors that were made, the texts used were taken from sites that have put them in available free of charge to make them known on the web with educational purposes. If you find an error on this site or if you find a text or tool that may violate any applicable laws of copyright, please notify us via e-mail and we will promptly remove it.
George Washington Miller life and biography